Ladies and gents,
I am thrilled to present to you…
VIP Lifestyle: A People-System for Creating Your Ultimate Lifestyle
This short ebook is a practical guide at the intersection of lifestyle design and people skills. It aims to assist you in using the way you communicate and relate with others to create a rich, exciting and fulfilling life for yourself.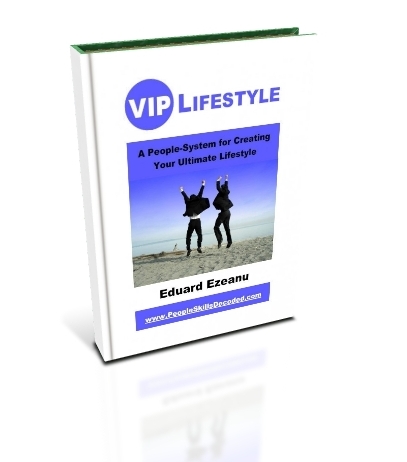 Why This Ebook Is Essential
I've been teaching communication and people skills for over 8 years. I firmly believe that in this complex social system we live, people skills play a huge role in creating an exceptional lifestyle for ourselves. They can make or break your lifestyle.
Before I started writing VIP Lifestyle, I've asked myself: "If I only had a few hours to share with people the most important lessons I know on mastering and applying people skills, what would I say to them?"
I've answered this question and then, I gave all of those lessons the form of this ebook. I've worked like crazy for a few of weeks, conceptualizing, structuring, writing and editing to make the ebook simultaneously powerful and easy to read.
VIP Lifestyle draws inspiration from every area of my life, as well as the lives of my clients and other people I've interacted with.
What You Will Learn
In VIP Lifestyle, you will discover essential points on:
Why and what people skills are essential ingredients for creating your ultimate lifestyle;
How to communicate better, bolder and not let other people manipulate you;
How to promote yourself, your ideas and your services effectively;
How to build quality relationships with others in your personal or professional life;
How to effectively take your learning one step further.
The key concepts explored include: personal boundaries, confidence in communication, persuasion, knowing yourself, being sociable and networking.
The Really Good News
There is more…
I've decided to make this ebook (value $12.95) available for free. Yes, for FREE.
All you have to do is subscribe to this blog. You will also get each new article directly into your inbox, plus members-only articles and bonuses.
After subscribing, every article you will receive from People Skills Decoded will contain a download link at the bottom which will take you to VIP Lifestyle.
You will need Adobe Reader to open the ebook, and to save a copy on your computer. If you're already subscribed to my blog, have no fear: you too will be able to download VIP Lifestyle for free with every article you receive.
This is high value content that I'm basically giving away for free. I'm sure reading and using it will benefit a lot of people. Please help me spread the word about it and get as many people as possible to obtain their copy of VIP Lifestyle from me.
Thanks,
Eduard