In my view, you have intermediate conversation skills when you are able to start a conversation with a wide range of people, keep it going, talk about various topics and build some sort of connection with a portion of the people you talk with.
A lot of folks don't have this level of conversation skills, and they generally struggle with making conversation. Then again, a lot of folks do have this level of conversation skills. And when you're an intermediate-level conversationalist or close to it, it's worth considering attaining an advanced level of conversation skills.
Advanced conversation skills will influence the way you come across, the impact you have on others and the quality of your relationships so much that you won't believe. Few experiences compare to going to a party, meeting or social event, engaging with people and being one of the best, smoothest conversationalists in the room (if not the best).
So I firmly believe that gaining advanced conversation skills is a worthy pursuit, no matter who you are. But what does it mean to have advanced conversation skills anyway?
Well, I'd like to talk to you about 4 conversation skills that I consider will practically turn you into an advanced conversationalist. They're not the only advanced conversation skills, but they are some of the most important ones. And I'm gonna show you how to cultivate them to boot.
1. Reframing
In conversation, reframing is the ability to look at the topic being discussed and the ideas being expressed from a new, original perspective, and talking from that perspective. It's, in a way, switching the angle of the conversation. And it's a great method to spice up the conversation.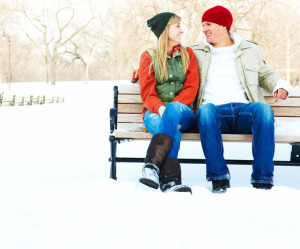 Here's an example of reframing during a discussion with a girl.
Her: "Boy! My purse is really heavy. I don't know why I've put so much stuff in it."
You: "Yeah, well at least if someone harasses you on the street, you can easily use it as a clobbering device. They'll be sorry they ever messed with you!"
That's a reframe. And by doing this reframe with your remark, you've achieved two things. You've turned a negative (the purse being heavy) into a positive, and you've also given the purse an unconventional, creative utility (as a clobbering device). So your comment is interesting and funny, and it helps you make an impression. Not bad for one comment!
How to develop your ability to reframe: by deliberately trying to look at topics and statements made in conversation from new, different angles. Move away from conventional thinking and seek to think out of the box. With practice, you'll get better at it.
2. Empathizing
Empathizing is the ability to put yourself in the shoes of the other person, understand their thoughts and feelings, and make statements from this perspective. The more empathy you have, the easier it is to empathize with someone in a conversation.
Here's what empathizing look like.
Her: "My boss criticized me for 20 minutes for being 5 minutes late! I couldn't believe it!"
You: "Wow, I imagine you felt really frustrated and shocked. I mean, how big of a deal is it to be 5 minute late anyway?"
Her: "Yes, exactly! You get me so well!"
See what you're doing? You're putting yourself in the other person's situation and you're talking about how you imagine she felt and how she saw the situation. That's empathizing. And when you empathize with someone effectively, it shows that you're really listening and that you understand them. Which is very rare and it's bound to earn you a lot of points.
How to develop your ability to empathize: by deliberately putting yourself in the other person's shoes. The more you practice, the more your empathy improves, and understanding the other person gets easier, so making empathic statements gets easier.
3. Relating
Relating is the ability to connect to what the other person says, with something from your own life or knowledge. A master conversationalist is able to relate to a very wide range of statements, on a very wide range of topics. It goes something like this:
Him: "I went water surfing this weekend. Lots of fun!"
You: "So you do water surfing ha? I tried water skiing once. My back hurt for two days after that, but it was an amazing experience. Have to try it again sometimes."
By making such a comment you enter in the other person's world and you show them you can connect with it to some extent. You emphasize commonalities between the two of you, which encourages the other person to open up more, and makes them like you more. That's the power of relating.
How to develop your ability to relate: first of all by developing a rich lifestyle, where you try a lot of things and have a large array of experiences. That way just about anything the other person talks about, you have some related experience to share. And second of all, again, by practicing sharing related experiences from your own life during conversation.
4. Storytelling
Advanced conversationalists tend to tell a lot of stories when chatting. And they know how to tell them well, so even a banal event seems like a crazy adventure when they narrate it. Rookies tend to only make short, generic statements in conversation, which does little to convey their personality and make it hard to keep the conversation going.
So captivating storytelling is definitely an advanced conversation skill worth cultivating. There is nothing more captivating than a good storyteller, grabbing and holding the attention of an entire group of people with their story about that time when they accidentally ate dish soap.
How to develop your storytelling skills: for one, by telling more stories. Start with short, simple stories if you're not used to telling stories, and advance to longer, more intricate ones. And also by learning about the rules and principles of good storytelling and practicing them when you share stories.
If you wanna learn more about these rules and principles of good storytelling, as well as reframing, empathizing, relating and other advanced conversation skills, I recommend that you get onboard my free social confidence newsletter, which is where I share most of my advanced conversation advice these days.
Once or twice a week, you'll receive practical information from me for improving your social skills, social confidence and social life, directly in your Inbox. So go here right now and enter your email to join the newsletter.
Advanced conversation skills do take some practice to develop. But with the right guidance, it can be a surprisingly fast and rewarding experience. Through this article I've helped you set a solid foundation for developing advanced conversation skills. The rest is up to you.
Go get them!