Any straight man, at one point or another in his life, will ask himself: "what do women want in a man?" And when he realizes he doesn't truly have the answer, he'll go searching for it.
One of the most common ways for guys to find out what do women want in a man is by asking his lady friends what they want in a man. Supposing they have a big enough sample of female friends to ask this, it may provide some value for them in understanding women's desires.
However, this method is highly flawed because of two reasons: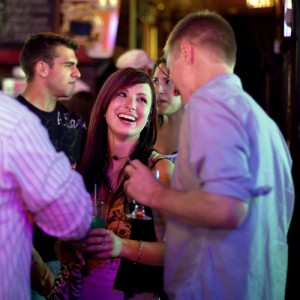 1. Many women will simply not be completely honest. They'll tell the guy what he wants to hear or what will make them look good rather than the naked truth; many times without even realizing.
For instance, a woman may not disclose to a guy that she wants a man who can dominate her physically in bed, because she is afraid that she'll seem like a slut, but deep down she does have this craving.
2. Women often don't know themselves what they want in a man. So they'll talk about what they think they want in a guy, but it's frequently not what they truly want and what generates emotional attraction towards a guy. And this phenomenon often applies for men as well.
Considering this, what is the best way to know: what do women want in a man?
I believe the best way is to study women's behavior towards men.  And, if the sample of women is big enough, you'll reach the most reliable conclusions.
If a women says she wants s guy who is sensitive, but she constantly dates ice-cold guys despite a generous availability of sensitive guys around her, then she obviously wants ice-cold guys rather than sensitive ones.
If she says she wants a guy who is tall and dark, but then falls madly in love with and desperately pursues a guy who is short and blonde, it's likely that her desire for tall, blonde guys is only at a superficial level.
Working as a communication and confidence coach, having built for myself a pretty rich and active social life, and being a keen observer of human nature, I have noticed a few highly consistent patterns in numerous women's behavior towards men, which indicate convincingly what women want in a man.
Of course, every woman is different, but there is definitely on overarching theme in women's desires regarding men.
So, if you're asking yourself "what do women want in a man?" I'd like to share with you my conclusions. I believe that above all, women truly want and react emotionally strongly to these traits:
1. Confidence
Yes, it's true. Confidence is, by far, one of the most attractive traits you can have. The men that I know who are very successful with women are very different, but the one quality they noticeably have in common is a high dose of confidence.
They are comfortable in their own skin and they like themselves as they are. Consequently, they are sociable, they are genuine in social interactions, they are persistent and they don't take crap from anybody. And women quickly pick up on this and it involuntarily generates attraction.
Fortunately, confidence is a psychological trait that you can develop through deliberate action. Trust me; I help people develop it for a living.
If you want to learn the steps you need to take in order to build confidence effectively and quickly, then make sure to watch this unique presentation I have created, in which I'll reveal them to you.
2. Masculine Energy
Ultimately, a woman desires a man, not a girlfriend with a penis. There are certain traits that come off as (primarily) masculine, just as there are certain traits that come off as (primarily) feminine.
A masculine energy is what you convey when you manifest such masculine traits.
There is a wide range of characteristics that are generally masculine: decisiveness, dominance (not the same as aggressiveness), firm voice tone, strong eye contact, seeking challenge, having clear goals and ambitions in life, perseverance, practical thinking, being protective, achieving status, and so on.
The lesson here is two-folded:
1) Don't be afraid to convey the masculine traits you have (yes, you have lots of them, even if you may have lost touch with some). Put them out there and be proud to be a man.
2) Develop your masculine traits. Pick just one or two of them at a time, and work on improving them.
3. Good Social Skills
If you look during social interactions at the guys women react very well to (they flirt with them, they seek their attention, they 'eye-fuck' them) these guys will demonstrate some class of sharp social skills.
Maybe they are funny or they are very fluent verbally. Maybe they are charismatic or they know how to make a girl feel special. Maybe they are good listeners or mesmerizing story tellers. Or maybe they have a mix of these qualities.
Any way you cut it, they have a range of good social skills. The bigger the range and the higher each skill in it, the more attractive they are.
We live in a social world; we always have. And this is why social skills make all the difference in the world, and they are worth enhancing. Again, this presentation will prove very useful here.
4. An Interesting Lifestyle
The key is to not be just another guy who goes to a boring 9 to 5 job, then watches TV and plays computer games all day long. Too many guys are like that, and they all lack an edge.
You don't need to have a James Bond lifestyle either, but it does prove tremendously helpful if there are just a few elements in your life that make it unordinary, above average and exciting. They make it interesting and then women feel the natural urge to be a part of it, and to be with you.
This is why I always encourage men to take on interesting hobbies, to try new things, to constantly challenge themselves and to do things they are passionate about. A man with an interesting life is very sexy.
Okay; at this point you may be asking yourself: but what about money, looks and fame?
My answer is that these things do help, but now having theme is definitely not a deal breaker, at least not with the vast majority of women.
At the end of the day, confidence, masculine energy, good social skills and an interesting lifestyle outweigh everything else. What do women want in a man most of all? It's these 4 traits.
This is great because, while there are limits to how much you can improve your looks and few people will ever become millionaires, becoming more confident, masculine, and skilled socially, and gaining a more interesting lifestyle are within your reach, no matter who you are.
So, all that's left for me to say is: get out there, better yourself as a man, live the best life possible and have fun. Your attractiveness will soar as a result.
Image courtesy of sebastien.b