Information overload is very common for people who are into personal development. It's essentially when you've learned so much theory that your mind is overburdened and so it's difficult to put it into practice.
What happens is that you consume a lot of conceptual information from books, articles, trainings and so on, and then instead of applying it, you get even more information; and more, and more. And when you finally decide to start applying it, you find out there is too much competing information in your head, to many concepts, ideas and voices telling you what to do.
You can recall everything and nothing at the same time, you don't know where to begin with practicing, you feel confused and overwhelmed. So you become paralyzed and all that information goes to waste, because you don't actually apply any of it to build real-life skills or attitudes.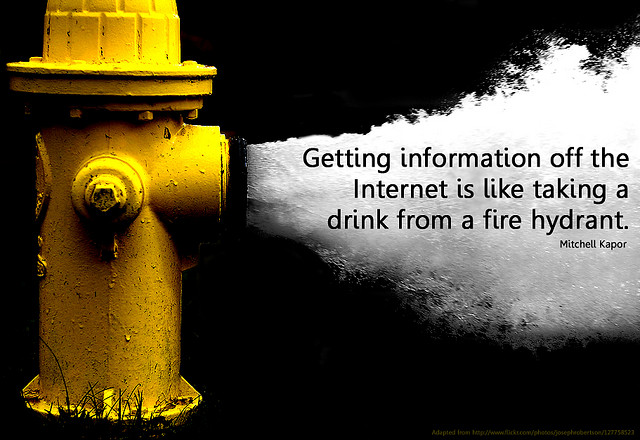 I think that personal development information overload is very common because many of us, when we decide to improve an area of our life, we want to get all the information from the get go, to make sure he have any hypothetical scenario covered, and only then start using it.
Unfortunately, this doesn't work very well. There needs to be a continuous balance between theory and practice in personal development, otherwise is gets disrupted. Considering this, here are my top 3 pieces of advice for dealing with a personal development information overload.
1. Take a Clean Break
Obviously, you'll need to stop learning new concepts in order to prevent burdening your head with even more info. However, at first it's also good to not try and jump into practice right away either. Instead, it's best to take a short but clean break from both theory and practice.
You see, if you have too much information and you wanna start applying it, you're like a person who ate an excessively big meal and wants to go jump in the swimming pool. With all that food in their stomach, it won't be a pleasant experience. What they need is to wait a while and give time to some of that food to digest.
Similarly, you need to wait a while and give time to some of that excess information to go out. Your mind will quickly begin doing a cleaning job in your memory, dump some of the surplus info and keep and reorganize the info it sees as the most relevant.
This does indeed mean that you'll lose some of the knowledge you acquired, but it's much better this way. Because with less knowledge, your mind is more flexible, it can dig through the knowledge faster and it's much easier to apply it.
2. Select Just a Few Ideas to Practice
When you start to practice the theory, don't try to use it all at once. It's too much. Your actions will be all over the place and you'll make little progress in terms of building new habits.
The best route is to select only a few key ides and concentrate on applying them until you feel they've become a part of you and you now employ them naturally. If for example you want to be more outgoing socially, pick just 2-3 techniques and apply them. Then select a few more ideas and apply them, and so on.
This is the step-by-step approach to personal development, which is much more effective than trying to make one big jump and be done with it. The human mind works best if it focuses on a few simple tasks at a time. With this approach you'll make the most progress in the long-run.
3. Set a Theory/Practice Ratio for the Future
In the future you'll want to prevent information overload from happening again. This implies keeping a balance between how much theory you learn and how much you practice it.
The top way I know to achieve this is by setting a theory/practice ratio that you find convenient and sticking to it. For instance you can set a 1 to 5 hours ratio, which means that after 1 hour of conceptual studying, you need to spend 5 hours applying what you've learned. And you only allow yourself to go back to acquiring more info after the 5 hours of practice.
There is no universally perfect ratio; you'll have to find one that works for you and your personal development goals. Just keep in mind that whatever ratio you pick, it's key to have relatively short periods of learning theory followed by much longer periods of putting it into practice.
One of the perks of setting such ratios it that it forces you to be selective about what you study, since you've put a strict constraint on your studying time. This in turn means that you'll be particularly picky about what you learn and you'll be much more concerned with the quality of the information you get.
You'll want to learn from the experts, you'll be more willing to pay for information if it's more valuable than free information, and the benefits will show in the results you'll obtain consistently.
Your self-growth will be real and effective; you'll see your behavior, your emotions and your life improve day by day, and you'll enjoy every moment of it.
PS: I recently wrote 2 articles for DatingAdvice.com. One article is about making women notice you, the other is on how to make a girl laugh. Check them out.
Image courtesy of Will Lion