If you're a guy and you want more social and dating success, there are a lot of personal tweaks you can make to achieve this. Interestingly enough, I find that enhancing your look, which is a relatively accessible change to make, is an often ignored one.
I'm not talking about your looks here; I'm talking about your look; about the way you use your looks and project your personality through clothes, accessories and body-language.
Over the past few weeks, whenever I would talk with another guy about men's fashion and building a personal look, I would find myself keenly recommending the same one ebook. So, I decided to review it here.
The ebook is called Seduce with Style. It's the best information product I know for men who want to develop a personal look that boosts their social life and their success with women.
You can get the full details about the ebook here.
Also, check out this free SWS chapter about the 8 most common style mistakes to avoid.
Why Style Matters
Do you need to dress well and have style in order to be an attractive guy? In my perspective, absolutely not. Does it help? You've better believe it.
In fact, I think learning to dress with style as a guy is such a good move that if you're looking to improve your social and dating life, this is what you should start with.
Optimizing your look as a guy involves significantly less effort than other personal changes and you'll instantly see positive results: people (read girls) looking at you more, smiling more, flirting with you more etc.
Girls typically react to a guy's look much more than to his looks. Often without even realizing it, they rate guys based on their look and what it sub-communicates. Then they often justify how we they react to a guy by invoking other, 'less superficial' factors.
I ignored the power of a stylish personal look for the most part of my life. I didn't understand look, I only understood looks. But when I did start paying attention to the clothes I wore and to developing a personal style, I was floored by the positive impact.
Eventually, I realized there is a deeper, more subtle meaning to clothing and style, and that your look goes beyond your looks.
My Review of Seduce With Style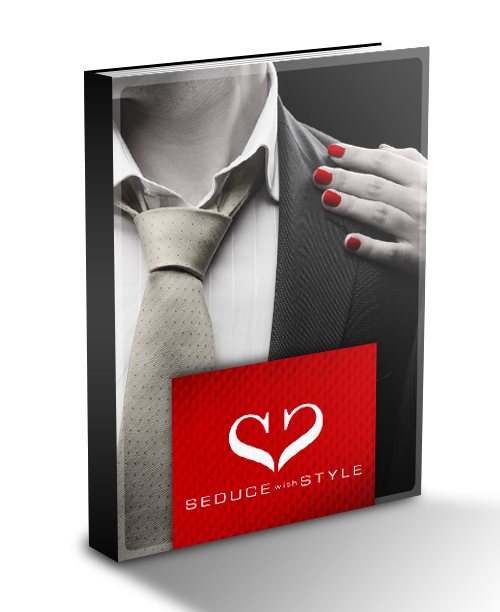 AlphaWolf, the author of Seduce with Style, is an Attraction Style Coach. I had an awesome conversation with him this week about the ebook, men, women, seduction and life, and I was impressed by his pragmatic thinking and his passion for what he does.
The ebook he wrote is not your average what-to-wear and how-to-tie-a-tie book for men. It digs into the underlying principles of men's style and sexual communication, in order to teach men how to develop a seductive and expressive style.
As a guy, you'll find in Seduce with Style practical advice on choosing and matching clothing pieces, adapting clothes to your constitution, choosing colors, layering clothes and accessorizing.
You will also find a powerful approach to your look as a way of communicating certain characteristics and seducing. One of my favorite sections of the book is the one about the 8 Style Attraction Switches and how to integrate them into your look.
Bottom line: if you're a guy and you want to become more seductive, definitely take a look at your look. And if you do so, definitely get your copy of Seduce with Style in order to enhance your look.
Check out Seduce with Style here.
When you dress well and you know it, the challenges in your social life don't disappear overnight, but they do become much easier to surpass.
Image courtesy of glitterygin20