As you may know, I'm a big fan of travelling and I tend to travel a lot. Over the last 6 months for instance I've been to Hungary, Spain, Italy, The UK, Thailand, Hong Kong, Singapore, Peru and Brazil. And my travel itinerary looks as busy for the next 6 months.
Sometimes I travel with friends, but many times I travel alone. However, I never feel alone when travelling, because I constantly meet new people, have social interactions and make friends during my trips.
If you can do this, you can travel as much as you want, whenever you want, without needing to worry about bringing along some sort of travelling companion so you won't get lonely. You'll find people to spend time with and have fun with while travelling. I'd like to show you 3 very effective strategies to do this, which I use personally.
1. Make Travel Plans That Facilitate Contact with New People
When setting up a trip, you'll make plans regarding transport, accommodation and travelling style. Each of these areas offers opportunities to meet new people and socialize. So when you make your travelling arrangements, try to find and choose options that facilitate social interaction. For example:
Consider staying in a hostel rather than a hotel. It's cheaper, and since you'll share a room with 3, 4, 5 or more roommates (depending on the room size) you're bound to have lots of social interactions. If you want more privacy, in many hostels you can rent a single room as well, and since the whole hostel atmosphere is still very social, you can still mingle a lot.
Another option to a hotel is finding and renting a room in somebody's home, using websites such as AirBnb or Roomorama. It will give you the chance to meet a local, possibly their friends or family, spend time with them, and also get inside tips regarding the city you're visiting. I use this accommodation option a lot, and I've stayed with some great hosts so far.
Take guided tours. Even if you leave on a trip by yourself, you can still do it with other people, by taking a guided tour instead of exploring on your own. Thus, you'll be part of a group of tourists, and you'll have a guide. So you'll get competent info about the places you're seeing, and you'll get to socialize with the other people in your tour group. Two birds with one stone.
Take the train instead of renting a car. When moving around, like from one city to another, renting a car and driving alone offers zero social opportunities. From a social perspective, a much better choice is to use public transportation, which gives you opportunities to talk with new people and make friends. Trains are my personal favorite. I've met tons of people and had fascinating conversations while taking a train to somewhere.
2. Use Social Hobbies for Social Interaction
One of my top pieces of advice when it comes to making friends is to have hobbies and activities that are social in nature and permit you to interact with new people. Such hobbies and activities will become particularly useful for making friends when travelling alone to new locations.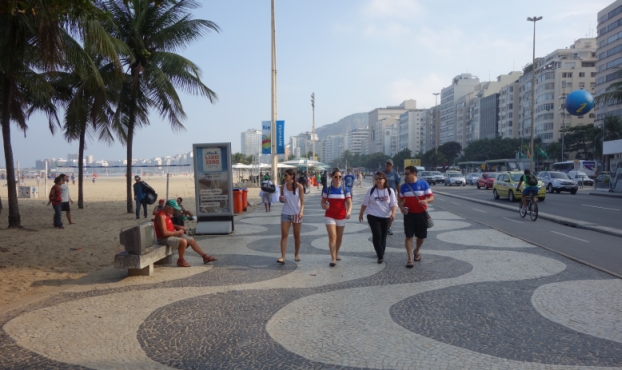 For example, one of my hobbies is salsa dancing. And I've met hundreds of people over the years by going to salsa classes, parties, and events, which are very social in nature. Whenever I go to a new city, I look on the Internet for salsa clubs and salsa parties in that city. In the type of big urban environments I like to travel to, there are almost always at least a couple of them.
Then when I'm in that city, I'll go to some of these salsa parties. Where, you've guessed it, I'll dance salsa, plus I'll use this opportunity to meet new people and socialize (women in particular, since, you know, salsa is a male-female partner dance). I've made friends all over the world through dancing, and I've acquired many memorable experiences.
A friend of mine is a member of Toastmasters, which is an international public speaking association, with clubs all over the world. Whenever he goes to a new city, he finds one or more Toastmasters clubs there, and goes to their meetings. That's how he meets like-minded people and makes travelling social.
Whether it's dancing, or public speaking, or some other activity, the main thing is to have social hobbies. And when you travel, capitalize on these hobbies to meet new people and make friends. They will revolutionize your social life anywhere you are.
3. Get Social. I Mean Really Social
By making the right travelling arrangements and by using social hobbies, you can put yourself in environments that are conducive to social interactions. But that doesn't mean social interactions will happen on their own. Not for the most part at least.
You can take a guided tour and not talk to anybody in your tour group. You can ride a train and not start any conversations. You can go to a meeting in a new place and just stand by yourself in a corner during the entire meeting. So being in social environments is not enough. You also have the task of being social.
By being social I understand having social initiative and doing a range of things that help you relate and connect with other people: starting conversations, asking questions, being chatty and opening up, keeping conversations going, having a positive vibe and being friendly.
When travelling alone, it's even more important to do these things. I am generally pretty social, but I'm extra-social when travelling by myself to a place where I don't know anybody. Because I don't have any pre-built relationships. All I can rely on for social interaction is new relationships, and these develop by being outgoing.
Many of the persons I coach are somewhat timid about doing all of this stuff. It often seems intrusive, weird. And although I understand this perception well, I also know that realistically, there is no reason for them to be timid. People are generally eager to meet other people. Plus, if you're new to a place and others know it, they tend to be even more open towards you.
Nevertheless, if you're shy or socially anxious, you probably lack the well-internalized social mindset required for you to be outgoing with new people, without feeling nervous or inhibited. And your conversation skills may be lacking as well, mostly due to inexperience.
So you will need to work on changing your mindset, as well as improving your conversation skills. This is, of course, easier said than done. It's not my intention in this article to teach you how to perform these two fairly elaborate tasks. However, I recommend you to join my free social confidence newsletter, where I will teach you just that.
As soon as you join the newsletter you'll receive from me a free instructional presentation in which I'll show you my step-by-step process for developing a deep-rooted mindset that makes you socially confident, and then as a member of my newsletter you'll receive weekly, tried and tested advice for improving your conversation style and making friends.
Go here to join the free newsletter right now, and I'll talk to you some more there.
Photo taken in Rio de Janeiro during World Cup.