Are you pondering the possibility that you're socially inept? Many people are that way, so you're definitely not alone. Nevertheless, you shouldn't take consolation in this and not do anything about it.
I've been working as a social confidence coach since 2007. And I can assure you that, no matter who you are, you can turn yourself from socially inept to socially skilled. You have the intrinsic ability to change how you are, and the tools to do it successfully are out there.
The first important step is to gauge if you indeed are socially inept and to what degree. A good change process always starts with a good understanding of your starting point.
The 10 Sign that you're Socially Inept
Here are the most important indicators of social ineptitude to take into consideration. Read them attentively and try to recognize how much each one of them pertains to your case.
You feel nervous when you're in a social setting or you're making conversation with someone.
You're particularly anxious around people you just met, attractive members of the opposite sex or people you perceive as being very cool.
You don't know how to properly start a conversation with another person, so you either not do it or do it clumsily.
You have problems keeping a conversation going and those awkward silences frequently creep in.
You feel that you're not good at expressing yourself and when you say something it doesn't come out the way it was intended.
You don't go out very much, you don't talk very much and, in group conversations, you barely talk at all.
When you do talk or interact with others, you often end up saying or doing silly things and embarrassing yourself.
You don't know how to react when you do or say something inappropriate and recover from the situation.
You believe others find you weird or boring and they're generally not interested in interacting with you.
You have few friends, if any, maybe you see yourself as a loner, and your dating life isn't looking too well either.
That's it; these are the 10 key signs.
So, what's the conclusion? How socially inept are you?
Once you've done an evaluation of your social aptitude, whatever level you're at, it's time to start thinking about some effective ways to improve your social skills, confidence and life.
The Formula for Social Success
Here are the 4 actions I encourage you to take in order to stop being socially inept and become socially savvy. In my experience, these actions will create the best results, in the shortest amount of time.
1. Get More Social Experience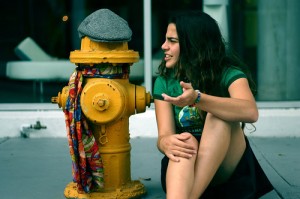 I know that you may want to find a way to not be socially inept anymore and afterwards go out and socialize, but unfortunately, it doesn't really work that way. It works the other way around.
Social skills come with social experience. As you interact with others, you try various styles of behavior and you notice how others react, this creates reference points for your brain and it improves your social prowess.
So, begin by going out more, interacting with people more and being more talkative, even if it's challenging. It's by challenging yourself that you make genuine progress.
2. Build Your Social Confidence
Most problems related to being socially inept will take care of themselves if you become more confident. You'll feel more at ease in social settings, find it easier to know what to say in a discussion and be a lot smoother.
In fact, social confidence is so important that usually when I coach a person who is socially inept, we focus 80% of the time and energy on developing this trait. And without exception, with social confidence come slick social skills as well.
Building your social confidence is a process in itself, and this article is not intended to describe it thoroughly.
However, I have a special presentation for you which does just that. Go here to check it out and learn the step by step process for becoming confident socially.
3. Hang Out With Socially Savvy Individuals and Study Them
A lot of my understanding of social dynamics, I formed by interacting with people (especially guys, since I'm a guy) who were very good at social interactions. And I studied they're mannerisms: how they start a conversation, how they keep it going, how they talk, etc.
Soon enough, I began to see patterns. Then I deliberately incorporated several of the patterns into my own behavior. Some of these new behaviors felt weird at first, but as I got used to them, they eventually felt very natural. Model individuals who are very social and you'll see positive results in your social life.
4. Be Persistent
You won't put an end to being socially inept overnight. Nevertheless, if you follow smart advice and you apply it consistently, you can make incredible progress fast.
In just a couple of months you will be much more relaxed, active and smooth in social settings than ever before, and you'll enjoy yourself like crazy. The trick is to have some patience, invest in yourself and be persistent.
By the way, for more free advice from me for overcoming social ineptitude and achieving social success, I invite you to join my social confidence newsletter.  You'll learn a lot from it.
As your social skills and confidence grow, your social life grows with it. And your fulfillment with yourself and your happiness in life reach a whole new level.
Image courtesy of ohhector