As a social confidence coach, I work very often with men and women who feel as if they are invisible to others around them, and they ask themselves: Why do people ignore me?
Maybe in conversations others seem to pay no attention to them, maybe nobody talks to them at a social event but they seem to talk to almost everyone else, or maybe when people they know go out they never invite them.
If you're in such a situation and you're asking yourself "why do people ignore me?" I'd like to answer this question for you from my perspective. In my experience, there are 4 probable explanations. In some cases only one of them will be valid; in other cases a few or even all of them will be valid.
1. Your Presence Doesn't Grab or Hold People's Attention
The truth is that most folks don't put a lot of deliberate effort in trying to pay attention to someone or something. They simply pay attention to whomever or whatever naturally grabs their focus.
The people who grab their focus are the ones who stand out and project themselves with confidence. These are the ones who speak in a firm, easy to hear voice in conversation, hold good eye contact, use clear, convinced gestures, and move with poise through a social setting. This makes them hard to ignore.
Conversely, people who get ignored most of the time have feeble body language, speak seldom and in a very soft voice, and they pretty much blend into the scenery. This is what makes them nearly invisible.
2. You Are a Stranger to Others
Here's a scene you can witness often at a party: a guy walks up to a group of 3 other guys and shakes hands with all of them, but when he speaks, he seems to only look at two of them, while mostly ignoring the third.
At times, when he walks up to the group he will only shake hands with the first two guys and skips the third one entirely.
Why is he doing this? Because the third guy is a stranger to him. He knows the first two guys well, he spoke with them before, but he never talked with the third one, even though he may have seen him before.
And when we deal with strangers, we are often inclined to ignore them. It's not polite, it's not very social, but most of us only do what feels comfortable to us, which is why we ignore people we don't know very well. And unless the other person makes an effort to be social with us, we never get to know them, which creates a self-sustaining cycle.
It is possible that in your social environment, you are a stranger to lots of people. And since they don't know you and they barely know anything about you, their natural inclination will often be to ignore you. It's your job to break this cycle.
3. You Seem Unfriendly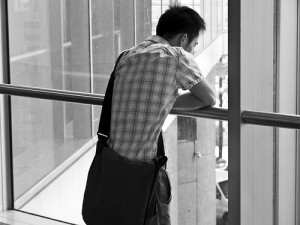 Another likely explanation is that some of the people around you have tried to be social with you in the past, but your response was less than welcoming. Maybe you didn't say much, you answered their questions mostly with two-word statements, and you didn't appear to enjoy talking to them.
I know that this may have been because you were feeling nervous and didn't know what to talk about, and you really wanted to be more outgoing, but the fact is you weren't. And others falsely assumed it's because you don't like them. So, after a short while they stopped trying to be friendly with you and they started ignoring you.
Another reason why if you often feel nervous around new people, it's crucial to get this issue handled. And you can do so, because anxiety and shyness can be eradicated by making some tweaks to the way your mind works.
Check out this presentation I created to learn how to do this. In it describe the tried and tested formula for gaining social confidence, so I'm sure you'll find it very useful.
4. You Haven't Found the Right People
Maybe some people have interacted with you in the past, you were talkative, they got to know you, and yet they still ignore you. What gives?
The last plausible explanation and answer to "Why do people ignore me?" is that many of the individuals you've met simply don't match well with you in terms of values and interests. You're not the kind of person they wanna be best friends with.
Don't get me wrong: this doesn't mean you're not likeable, it just means you're not their type. Which means they're not really your type either. Maybe you're the kind who wants to talk about career and world events, while all they care about is fast cars and what's on TV. We have a clear mismatch.
What this means is simply that you haven't found the right people for you. You need to meet new people, perhaps in other kinds of environments, get to know them and allow them to know you. In time, this process will bring in your life people you match well with and who simply won't resist from talking to you and paying attention to you.
Now you know why people ignore you. It's one or more of these 4 explanations above.
The best news is that all of these are issues you can fix or circumvent. You don't have to be lonely and have no friends. You don't have to be ignored by others. You can change all of this.
If you haven't already, I invite you to join my free social confidence newsletter, where I share weekly advice and techniques to help you achieve this. It's the top resource you can find for enhancing your social confidence, skills and life.
Good luck and I hope to see you in the newsletter as well!
Image courtesy of Saint Huck