I've been working full time as a confidence coach for several years now. I've seen many people make incredible progress regarding their confidence (typically my clients), but I've also seen many people make small progress or no progress at all.
Truth be told, the rule when it comes to boosting your confidence is either to succeed marginally and in a very long stretch or time, or to fail.
Nevertheless, the people who see amazing improvements in their confidence, and overall they are quite numerous even though they are the exception, represent living proof of the level of confidence anybody can potentially achieve.
Just have a look at my testimonials page, with snippets of real feedback emails I received over time from people who applied my Conversation Confidence guide, and you'll see that utterly transforming your level of confidence is indeed possible.
And even though it's not gonna happen overnight, you can experience amazing changes in just a couple of months, sometimes even less.
If your confidence is not improving at this point, or not very fast, I'd like to show you why, so you can make the right course corrections. There are 4 major reasons why your confidence may not be improving.
1. You're Not Really Serious about Gaining Confidence
The first reason may be that you want to gain confidence, but you're not really committed to the process. You may read some occasional advice on boosting your confidence, but you rarely apply it, and even when you apply it you do it for a couple of days and then you give up.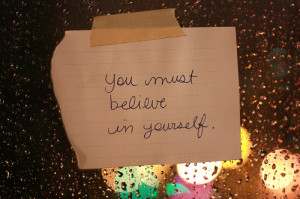 Not being serious about gaining confidence isn't necessarily a bad thing. Maybe your level of confidence is actually pretty good, and there are just some specific areas where your confidence is a bit lacking. And this lack of confidence isn't really affecting your life that much, so it's hard to gather the motivation to do the work required to gain more confidence.
If your life is great and more confidence with only bring marginal improvements, maybe it's a good idea to simply admit to yourself that the return on investment is not big enough and that's why you're not really committed to improving your confidence. And that's that.
Unfortunately, this is rarely the case. In general, people who seek advice for gaining confidence are seriously affected by their lack of confidence. Maybe they have no friends and no social life because they are shy, or they have toxic relationships, or they're stuck in a crappy job, and their life isn't anywhere near the way they want it to be.
If this is your case, there is no sensible reason for you to not be serious about improving your confidence. In fact, improving your confidence might just be the most important thing you'll ever do in your life.
So it's time to quit fooling around, fully acknowledge that you need this, and make a firm decision to get this area of your life handled, no matter what it takes. Your confidence isn't gonna go up by itself. You need to make working on it a priority for yourself.
2. You Don't Truly Believe You Can Gain Confidence
Many folks think that confidence is either something you have or you don't. So it's hard for them to believe they can improve their confidence.
Right off the bat, I'd like to assure you that this is not true. The fact of the matter is that, although your genetic predispositions do play a role in your level of self-assurance, for the most part your confidence is the direct result of your beliefs and your automatic thinking patterns.
And using the right tools, you can change these. If you would see the amazing transformations some people achieved that I've seen over the years, you wouldn't have a doubt that this is possible. And there is no motive why you can't achieve the very same results. Your brain functions the same way their does.
Sure, most people don't achieve big improvements in their confidence, but it's because they follow a flawed process, not because it isn't possible. And then they falsely assume that it just can't be done, or at least not by them.
Nevertheless, the fact you haven't managed thus far to achieve your desired level of confidence, if anything, is an indicator that you're following the wrong path, not that a good path isn't there. And that's actually my next point.
3. You're following The Wrong Advice
There are tens of thousands of articles online on how to be more confident, be more outgoing, love yourself and so on. And there are hundreds of books on these topics. I've read and applied a ton of them as I worked on my own confidence.
The conclusion? More than 95% of the advice on boosting confidence you'll find out there is bogus. It's simplistic, repetitive, impractical, naive or just plain wrong.
Confidence is one of those topics everyone seems to think they understand, but few people do. There is some real, multifaceted psychology behind the process of gaining confidence, and few individuals actually have a good grasp on it.
This is why it's important to not buy into every confidence boosting method out there, especially if it promises immediate, complete and effortless changes. Let me be as clear as possible: if somebody is promising you some trick to become confident overnight, they're just trying to swindle you out of your money.
There is no such thing. Building confidence is a process. Don't get me wrong, it doesn't have to take years, but it doesn't happen overnight either.
Use your critical thinking and do your research when you learn about a method for developing confidence. If it sounds too good to be true, it probably is.
4. You're Looking For Advice When You Should Be Looking for a Formula
Imagine that you wanna learn how to bake a cake. What you need is a complete recipe, which shows you the entire process from start to finish, gives you all the steps in the right order, and explains precisely what to do in each step.
Isolated advice such as "you have to add lots of sugar to make it sweet" or "add fruits on top after you heat it" is useful but it's not the complete recipe. It's some adjacent advice. And unless you also have a good understanding of the recipe, you won't be able to bake the cake.
It's the same with gaining confidence. Advice is useful. The right advice is very useful. But it's still just isolated pieces of advice. What you require is a step by step formula, which takes you through the entire cognitive and behavioral process of confidence enhancement.
I know that it may seem like a couple of tips are all you need and you can handle this, but unfortunately this is rarely true. Gaining confidence is a bit more complicated than you might think. Some psychologists and researchers dedicate their entire life to studying it.
Personally I offer a free social confidence newsletter, where I seek to provide the best possible advice for gaining confidence, but at the same time, I know that for most people, getting some good advice will help them make visible progress, but in itself is insufficient.
Because good advice is not a complete formula. And complete formulas are typically what you find in books and courses. That is why I have a Conversation Confidence guide, which offers a precise, actionable formula for gaining (you're got it) conversation confidence. I encourage you to check it out.
I believe in formulas, I believe in committing yourself to the process, and I believe in applying tried and tested methods, not methods that sound good or promise miracles. These are my tenets for building confidence, and these are the tenets I encourage you to follow as well. You will go far.
Image courtesy of SweetOnVeg